KMCO, with 100,000 watts, covers 16 counties and is the most powerful FM station in Southeastern Oklahoma. K-101 plays the popular current Country Music Hits, with a mix of 'Gold Hits' from the past. K-101 is music and promotion intensive, which gets our listeners involved. Our local live Disc Jockey's feature morning man pro, Clark Davis, he hit the air at age 14, he's now 63, that's 49 years of fun. Midday's are handled by Brandon Green. Brandon is also the sports voice of the Buffaloes. Afternoon Drive is handled by Austin 'Sweet Wheat' Wheat. Collectively, there's more than 65 years of radio experience, which helps to make KMCO the area's most listened to station.        K-101 is also home to Oklahoma City Thunder basketball.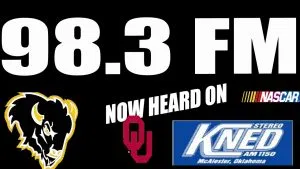 KNED operates at 1,000 watts on 1150 AM and at 250 watts at 98.3 FM. KNED has a 70 year history as McAlester's full service radio station. The music played on KNED is 'Traditional Country' and current artists with that same traditional texture. KNED features, McAlester Buffalo Football, Lady Buff & Buffalo Basketball and Buffalo Baseball. We are a long time affiliate of ABC Radio News and we are the source for severe weather information. KNED is home to Oklahoma Sooner Football and Basketball for more than 40 years. We also broadcast the NASCAR Monster Energy Cup Series and Xfinity Series races on the weekends and special motor racing programing throughout the NASCAR racing season

KTMC-FM, 'Classic Rock 105.1', operates at 6,000 watts and covers 7 counties in Southeastern Oklahoma. Classic Rock 105 features the rock hits from the late 60's, the 70's, 80's, 90's and current releases from heritage and new rock artists that fit the genre. Our playlist includes, the Rolling Stones, Led Zeppelin, Pink Floyd, Eagles, Lynyrd Skynyrd, Who, and ZZ Top, just to name a few. Early morning rockers wake up with Michael 'Jonesy' Jones. Midday is handled by 48 year radio pro, 'Rockin' Rod Cook! The afternoon drive features'Tony Scott'. KTMC-FM serves the active 45 to 65 year old, female and male Baby Boomers, who are high earning and high spending adult rock fans. "Rock 105" is also home to OSU Cowboy Football and Basketball and 'The Annual PITT 8 Basketball Tournament' in January.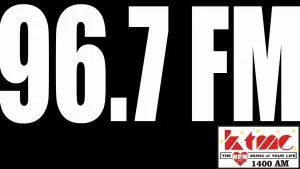 KTMC-AM operates at 1,000 watts on 1400 AM and 250 watts on 96.7 FM. KTMC-AM is McAlester's first local radio station, dating back to the mid 40's. It capitalizes on it's more than 75 year history by offering it's mature, active, affluent audience the music world's top hits. The all-time favorites from artists like Chicago, Eagles, Benny Goodman and more. KTMC female and male listeners are the age segment of the United States that controls more than 89% of the nation's wealth and is ready to enjoy the best that life has to offer. KTMC-AM 1400 (COOL 96.7) is also home to Tulsa Golden Hurricane Football